Blog | Breakdown Service | Spotlights | Star Leasing
Incident Coordinator Novel Tameru joined the Star Leasing team about five months ago. Although she's relatively new to the Star Leasing team, Novel got into the Transportation industry through an internship in logistics that she acquired through school.
Novel is currently pursuing her undergraduate degree in Business Administration with a concentration in Supply Chain Management at Georgia Gwinnett College. We are pleased to have Novel Tameru on the team!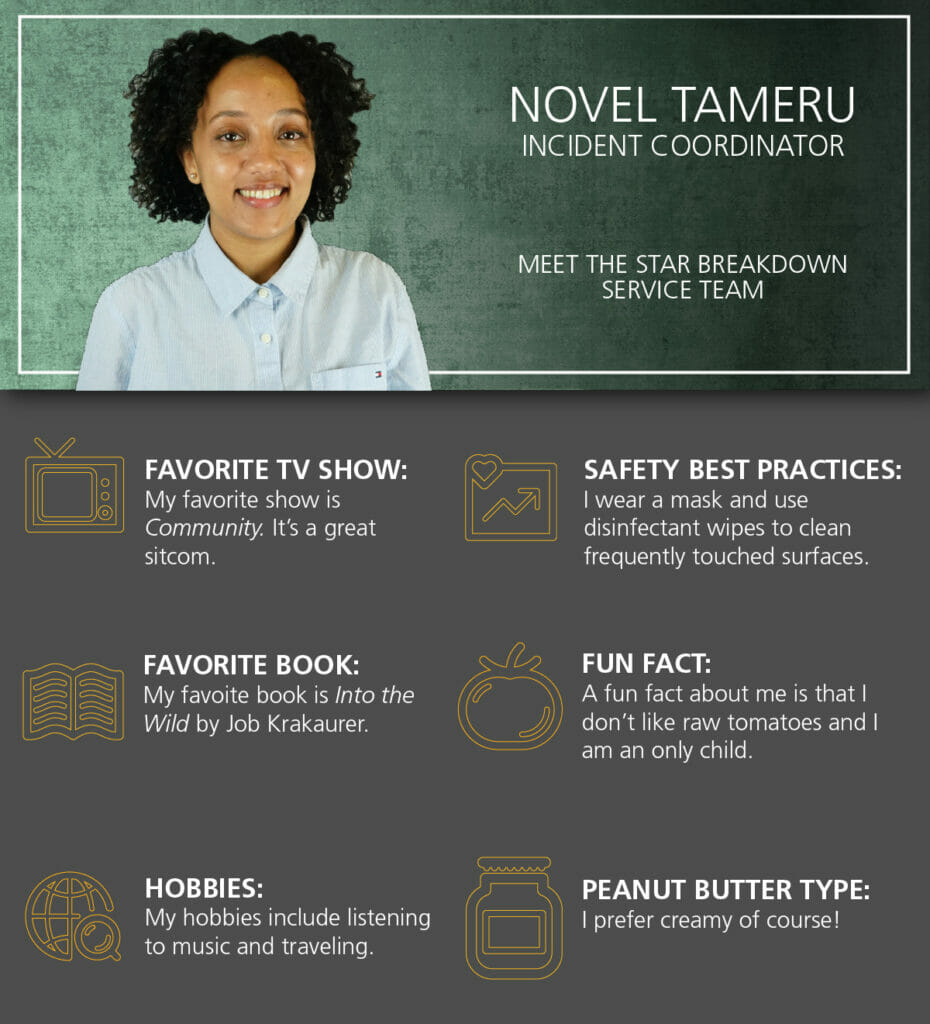 Q: How long have you been working at Star Breakdown Service (SBS)?
A: I've been working with Star Leasing for eight months.
Q: Tell us about your industry experience?
A: I don't have much industry experience yet. I have three months of experience working for a 3PL that I worked for before joining the Star Leasing team. I'm also currently studying Supply Chain Management, and am looking forward to gaining more experience in the industry.
Q: What's your favorite show?
A: My favorite show is Community, it's a pretty good sitcom.
Q: What's your favorite book?
A: My favorite book is Into The Wild by Job Krakauer.
Q: What are your hobbies?
A: My hobbies are listening to music and traveling.
Q: What are three words that best describe you?
A: Three words I'd use to best describe myself would be simple, ambitious, and silly.
Q: What's your favorite part of your job and why?
A: I'm fairly new but my favorite part of my job so far is learning new things and the challenges that come with that. I enjoy coming to work and talking to everyone.
Q: How are you ensuring work safety?
A: I'm ensuring work safety by wearing a mask and using wipes and Lysol to clean surfaces and my desk.
Q: What's something people may not know about you?
A: Something people may not know about me is that I'm an only child…
Q: What's something interesting about you?
A: Something interesting about me…hmmm… I don't like raw tomatoes…Eww…
Q: Where are you from?
A: I was born in Atlanta, GA.
Q: If you could have any superpower, what would it be?
A: If I could have one superpower, I would choose the ability to fly.
Q: What type of peanut butter do you prefer? Crunchy or Creamy?
A: I prefer creamy of course!
To learn more about the Star Breakdown Service team, or services we offer, stay tuned on our blog or click the buttons below.